EXCEPTION TRACKING FOR JACK HENRY SYNERGY BANKS:
A PROFORMANCE Loan Origination System Case Study
First Financial Bank, N.A. - Abilene, Texas ($7B Asset Size)
In 2014, First Financial Bank chose PROFORMANCE to assist the bank in leveraging the four million documents in their Synergy system with integration to exception tracking and collateral management in the INFO-ACCESS system.
Today, all 129 loan officers, 99 loan assistants and 25 credit staff (credit, analyst, loan review) use INFO-ACCESS as the single application for:
Exception Tracking
Collateral Management
Synergy Document Viewing
Host (Silverlake) Data Viewing
Notices to Customers
Notifications to Employees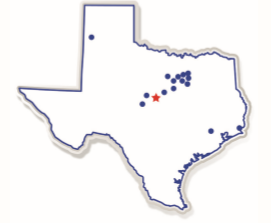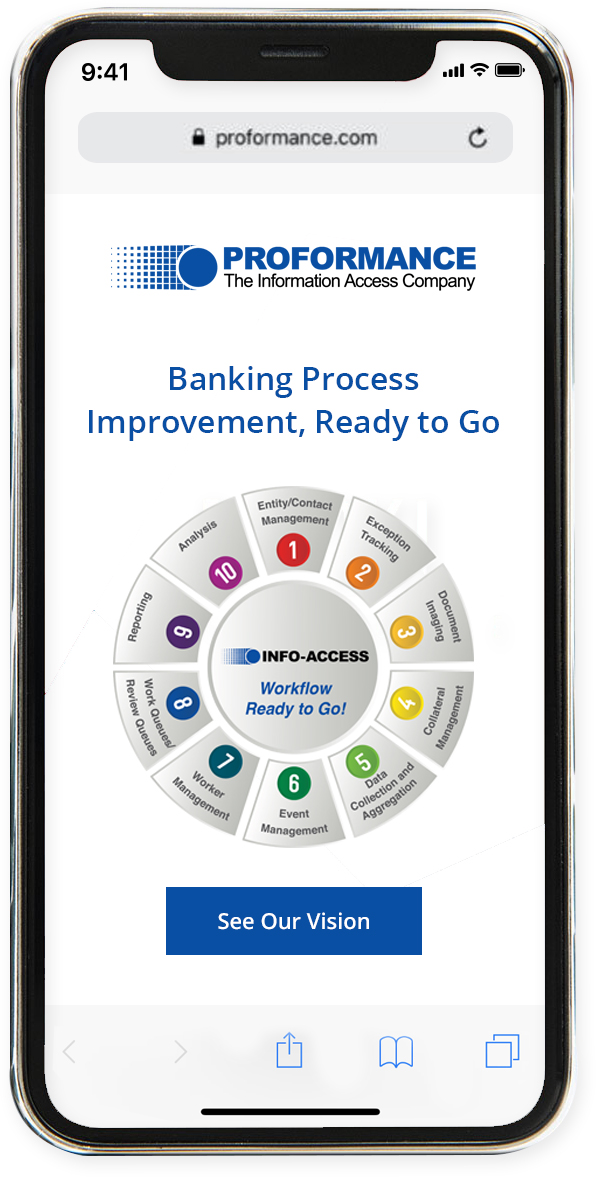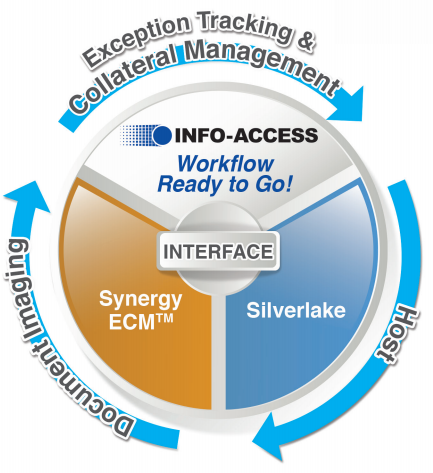 Before INFO-ACCESS: Faced with Several Systems That Were Not Integrated
Credit was responsible for setting up loan exception tracking.
Lender and loan assistants uploaded documents into KOFAX or emailed the documents to credit to satisfy exceptions.
Exceptions did not get cleared in a timely manner due to the dependency upon credit to clear them.
Document naming was done in Synergy, which was separate from KOFAX capture.
Constant loan origination process struggles between the front and back office.
Inconsistent tracking within WinDAudit.
Difficulty finding documents in Synergy.
Lenders were unable to run their own reports (emailed weekly).
Exception tracking and document imaging were two disparate systems and were out of sync.
INFO-ACCESS: The Perfect Integration Solution
Integrated document imaging (with Synergy interface), exception tracking, collateral management, contact management, and notice generation for loans and deposits.
Quality assurance is ensured with review queues for document image quality, indexing accuracy, content data collection, and exception management.
Loan review is automated.
After INFO-ACCESS: Loan Origination Process Improvement
Lender no longer needs to access three separate systems to obtain loan information (Jack Henry SilverLake data, Synergy documents, and WinDAudit Tracking).
Lenders have complete control of their documents.
Exceptions are cleared immediately.
Easy to find documents as they are viewed in relation to the customer.
Documents and tracking can be viewed at a global or loan-by-loan basis.
Loan exception tracking is also viewed in relation to the customer.
Reports can be easily created using a work queue to see outstanding exceptions.
Documents can be scanned, imported, or dragged/dropped into the Work Item queue, immediately clearing exceptions and removing them from the list. The documents are then automatically archived into Synergy.
The Master View screen within the applications shows the entire relationship – loan and deposit relationships as well as all collateral owned by the entity.
Collateral Management – lenders can quickly and easily see cross collateralization.
Notices – lenders and loan assistants can send ad hoc notices to customers.
Events – lenders can create events in the system to remind them of upcoming appointments (meetings, inspections, reviews).
Notes can be entered at any level (entity, contact, loan, deposit, collateral, etc.).
Additional Functionality for the Future
Fully integrates stage based commercial loan origination process workflow with data and document collection, collateral management, and exception tracking.
Provides automatic production of the credit proposal for the loan committee.
Includes pipeline reporting.
Provides portfolio analysis.
Offers risk segmentation, business intelligence, and reporting functionality