EXCEPTION TRACKING
Are you tracking your exceptions with a spreadsheet, siloed tickler system, or a basic content management system?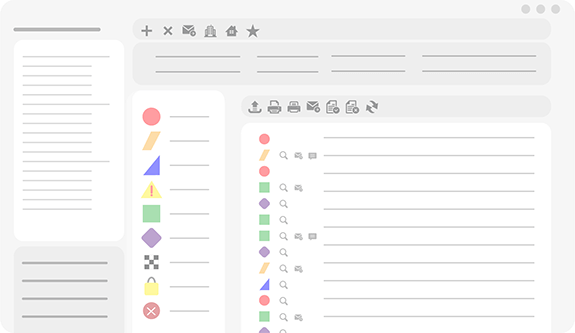 Integrated, Automated Document & Exception Tracking.
Exception tracking shouldn't be a burden, but in most banks and credit unions it is. Are you tracking your exceptions with a spreadsheet, siloed tickler system, or a basic content management system?
Integrated document imaging and exception management means that when a document is uploaded to the file it is automatically archived to the DMS, clears an exception, updates interactive work queues for users, and is removed from reports — all at the same time.
Request your on-demand video
We'll send your video, and won't add you to any marketing lists, either.

My department is more efficient and our accuracy has increased. This product is outstanding.
Credit Department Manager, $8 Billion Institution
We've been through numerous audits, and auditors have mentioned how great the software is and its ease of navigation.
Vice President, $1.3 Billion Institution
We have worked together as partners, with one common goal of making our operations and services optimal.
Executive Vice President, Chief Operations Officer, $1 Billion Institution
PROFORMANCE is very responsive and very customer-service oriented.
Vice President, Loan Operations, $4 Billion Institution
We redeployed one FTE within the first year.
Vice President, Loan Operations, $3.5 Billion Institution
My advice to potential customers-you just need to see how it works and you'll be sold on it.
Credit Department Manager, $8 Billion Institution
DOCUMENT & EXCEPTION INTEGRATION, and so much more.
EXCEPTION ICONS
View exception statuses with color-coded icons.

INTERACTIVE REPORTS
Drag & drop documents to clear exceptions within user-specific interactive exception reports.

CONNECTED COMMUNICATION
Ad-hoc or automated requests for updated documents via mail or email for ongoing file management.

EASY DOCUMENT ARCHIVAL
Easy to use - all users can upload documents.

REVIEW QUEUE
Route incoming documents to a centralized, rules-based quality review queue

DIGITAL FILE SHARING
Collect documents via email that archive to the DMS, clear exceptions, and route to a review queue, automatically.
INTEGRATED TRACKING
Incoming documents automatically clear exceptions, update reports.

ACCURATE REPORTS
Up-to-the-minute management reports ready to print or send by schedule.

TIP OF THE ICEBERG
Analysis, events, workflow, collateral management, and more.
ENTERPRISE CONTENT MANAGEMENT
Improve your institution's efficiency, simplify your day, and ease tensions between departments with INFO-ACCESS by PROFORMANCE. INFO-ACCESS is a complete document imaging and enterprise workflow application that organizes and integrates everything - data, documents, exception tracking, events, notes, contacts, custom notices, analysis, and more.
Bringing together data from the core, the document management system, and exception tracking means that archived documents immediately satisfy outstanding exceptions without any additional user input. Customer notices to request updated documents generate automatically. Management reports and interactive exception queues for users update instantly, and document review queues allow everyone to upload their own documents and then route those documents to centralized approval queues for quality assurance.
The PROOF is in the NUMBERS
7
Efficiency Ratio Lower
in Year One
60%
Fewer Exceptions
After Year One

Fewer FTEs or No New FTEs
with Growth
$382B
Combined Total Assets
of our Clients
FRUSTRATED WITH INEFFICIENT,
REDUNDANT PROCESSES?
Download our Efficiency Assessment checklist and
get your institution back on track!
Redundant work that comes from siloed systems cost you
and your team valuable time, causes frustration between
departments, and makes your institution less profitable.