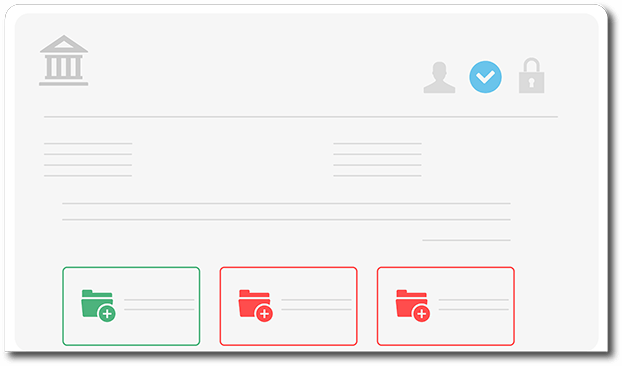 INFO-SHARE is document collection — simplified, integrated, and automated.
Lose the patch of third-party, stand-alone applications that require complex customer
account creation and manual retrieval of documents.

The SIX STEPS of SEAMLESS DOCUMENT COLLECTION

FILE SHARING BUILT for FINANCIAL INSTITUTIONS
Too many institutions have patched their need for secure file sharing with a stand-alone service that requires their customers to create complicated usernames and passwords on a third-party site and their employees to kick-off both manual requests and manual document retrieval. This patch is time-consuming and disjointed.
INFO-SHARE is built specifically for financial institutions to improve efficiency and streamline workflow. Make ad-hoc or automated requests for documents. Requested files are securely collected within the customers email, then automatically collected for you, archived to your document management system (DMS), routed for review and approval, and used to seamlessly clear exceptions.
BENEFITS & FEATURES
Request documents on a case-by-case basis or through bulk request.
Customers drag and drop their documents directly into your branded request email.
Instant and automatic document encryption.
Leverage the power of integration to make your team more efficient.
Incoming documents flagged for quality review.
Documents sync with exception tracking to clear outstanding items — seamlessly.
Use for
New Loan Requests
Recurring Financials
PPP Forgiveness Docs
New Accounts
Updated Insurance
Sales Campaigns
CASE STUDY | BULK & AD-HOC NOTICE INTEGRATION
$3B | ILLINOIS-BASED BANK
Want to learn more about this product?
Let us walk you through a case study based on a financial
institution that uses INFO-SHARE to send bulk requests for
PPP loan forgiveness documentation, recurring financials,
expired insurance, as well as individual requests for
ongoing account and loan management.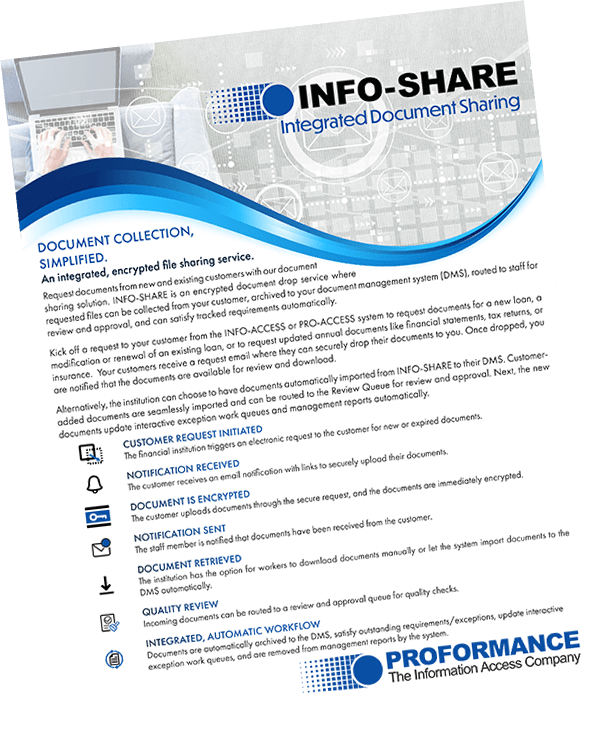 REQUEST YOUR VIDEO DEMO
and PRODUCT SHEET NOW
Are you still using a stand-alone file share product that doesn't integrate and requires manual document retrieval?
Discover an Integrated Solution