May 4, 2020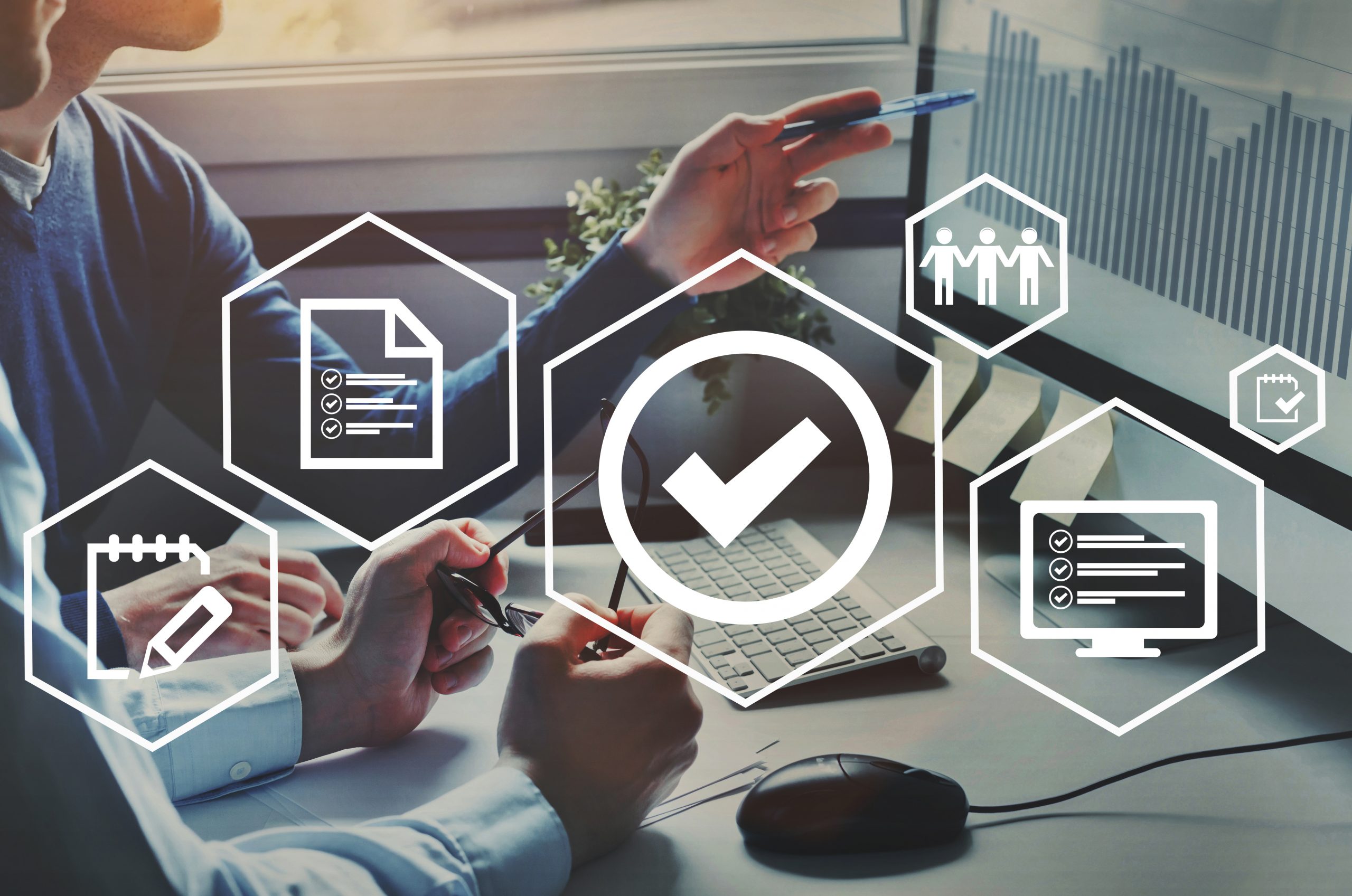 Managing with Spreadsheets Isn't Working Anymore. It's Costing You Time and Money.
Are you managing your institution using spreadsheets?
It's surprising how many large, community-based financial institutions still run their loan and deposit operations and portfolio management using excel, google sheets, and other spreadsheet tools. These tools, that worked well when the institution was small and reporting was less detailed, don't support the needs of a growing bank or credit union. In fact, as the financial institution's balance sheet grows, they hamper operational productivity in many ways. Managing your institution with spreadsheets, from loan servicing to credit risk management to deposit operations, is costing you time and money.
How Did We Get Here?
Imagine a financial institution that a few years ago had $500 million in assets. With time, the bank or credit union grows to $1 to $2 billion. The growth brings more regulatory oversight to ensure that enterprise risk management and credit risk management practices promote a sustainable institution. An increase in customers brings demand for new products and services, along with opportunities for fraud, adding more complexities for Chief Lenders, Chief Credit Officers, and Chief Operations Officers to manage. And, the institution's size warrants additional compliance controls and oversight. Document management systems swell with information, and the solutions that once worked well are now bottlenecks.
In short, the growth adds layer upon layer of new risk management and operational challenges that can cause a bank or credit union's efficiency ratio to increase. Well-managed financial institutions know that managing their organization's efficiency ratio is critical to maintaining a solid net interest margin and a profitable institution.
Too Close to Home?
Is your bank or credit union facing these challenges? You aren't alone. Oftentimes, we find that as institutions grow they suffer from spreadsheet overload. With a focus on growth, adding new products and services, managing the increased size and risk of the institution, and maintaining proper compliance, operational processes are among the last on the list to warrant review and improvement — until those processes jam up with the increased workflow and start to cause service delays that affect overall efficiency.
If you've been nodding along as we delve into these challenges, you know all too well how bottlenecks from siloed systems and from managing your loan and deposit operations using spreadsheets isn't working anymore. It costs you and your team valuable time, causes frustrations between departments as documents and information are shuffled around and – occasionally – lost, and makes your bank or credit union less profitable. These are all challenges that you can't afford in a competitive environment.
By the Numbers – How Improving Operational Management Improves Your Profitability
There are better solutions – ones that will streamline workflow, ease frustrations, and improve efficiency. We partner with financial institutions to configure an enterprise content and workflow management system that marries core/host data, documents from your document management system (DMS), collateral tracking, exception management, workflow, reporting, and so much more, to make our clients more competitive.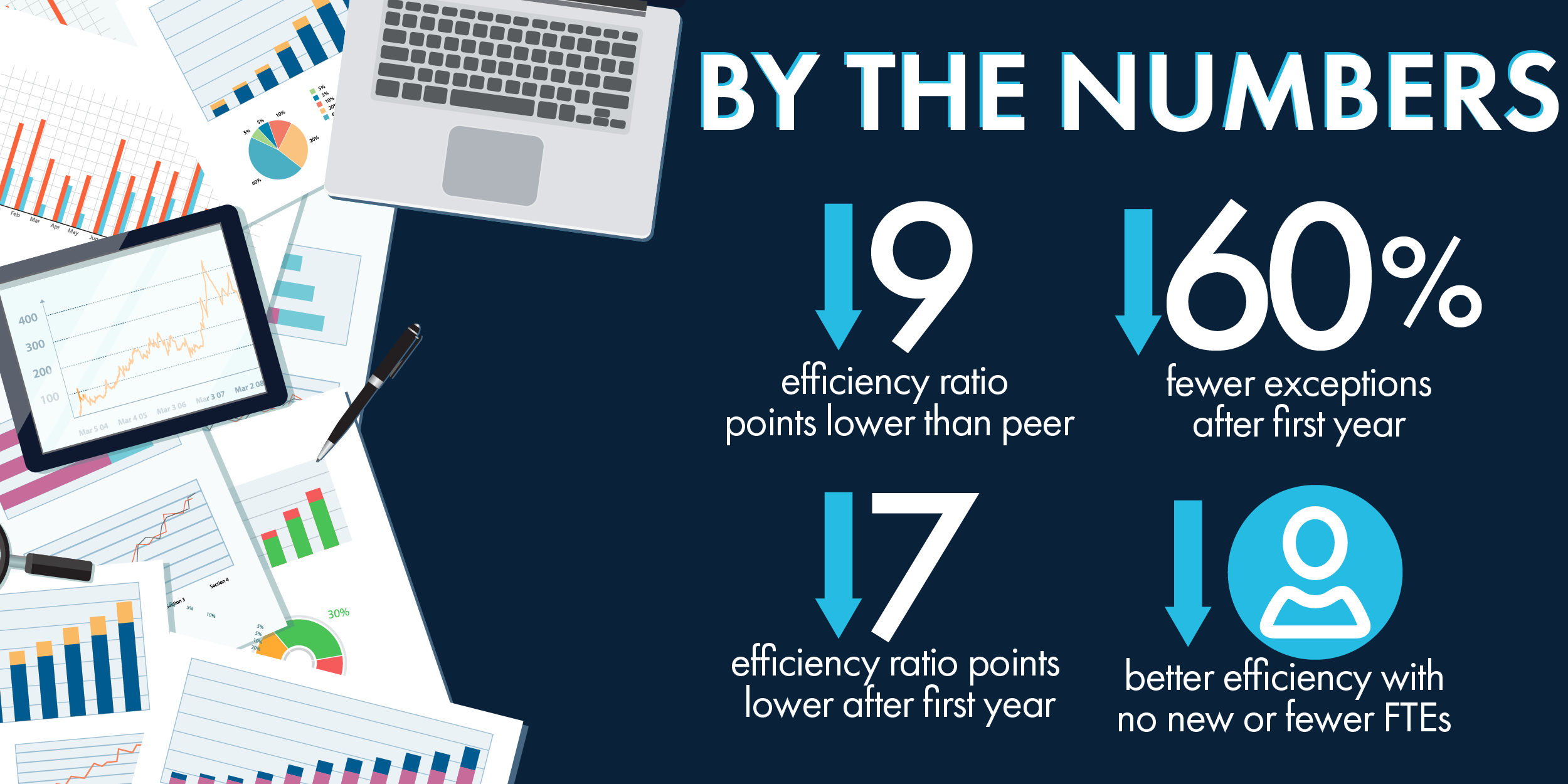 Do our systems actually make a difference? The proof is in the numbers. Our clients report:
Efficiency ratios after the first year are more than 7 points lower than their peer groups.
Efficiency ratios beyond year one are more than 9 points lower than their peer groups.
Loan exception and deposit exception levels (tracked tickler items) decline by more than 60% within the first year.
More efficient workflow processes without adding additional staff or with fewer FTEs through reassignment or attrition.
Where can your institution improve?
One example where our clients benefit from an enterprise content management system is through integrated document management and exception tracking. With this one workflow solution, the loan and deposit management process can instantly improve. Here's how:
An employee (lender, loan assistant, deposit officer, CSR, or loan or deposit operations staff) can upload a document to INFO-ACCESS. That document is automatically archived to your document management system whether that DMS is through PROFORMANCE, Synergy by JHA, OnBase by Hyland, or another.
If a tracked requirement or exception exists for the loan, deposit, or customer, the system matches the new document to the tracked tickler item and automatically satisfies the outstanding exception.
The loan or deposit account officer's personal exception work queue updates.
The exception tickler is automatically removed from management reports.
All of these things happen at the same time, without your team updating a siloed spreadsheet or spreadsheets (plural!) or working in multiple systems. And, documents that are archived by front-line staff can be automatically added to review and approval queues for operational teams to validate within the workflow process. Can you add up the number of people that would be involved in just this one process at your institution today? What about the number of emails, phone calls, or printed reports that would be involved?
About Us
This is just one example of many of how PROFORMANCE's workflow management software can improve operational processes at your institution. Our complete loan management software and deposit tracking system contains a sophisticated collateral management system, automated notification center, portfolio and workflow management tools, and so much more. Learn more about our enterprise content management solutions today at www.proformance.com.
The Bottom Line: Managing with Spreadsheets is Costing Your Financial Institution
Evaluating and re-engineering your financial institution's workflow processes to move your team away from managing via disparate spreadsheets will have a direct impact on the bottom line of your bank or credit union and will allow you to meet service level agreement targets to provide more accurate and more timely service to your customers and members. Enterprise content management software is critical to support your institution's continued growth, let's work together to evaluate where we can improve your current processes.
Want to learn more about why digging into your institution's operational efficiency and improving workflow processes by investing in a robust system matters? We think this article is a great place to start:
The Secret to a Low Efficiency Ratio | BankDirector.com